Posted on
By Jody Waghorn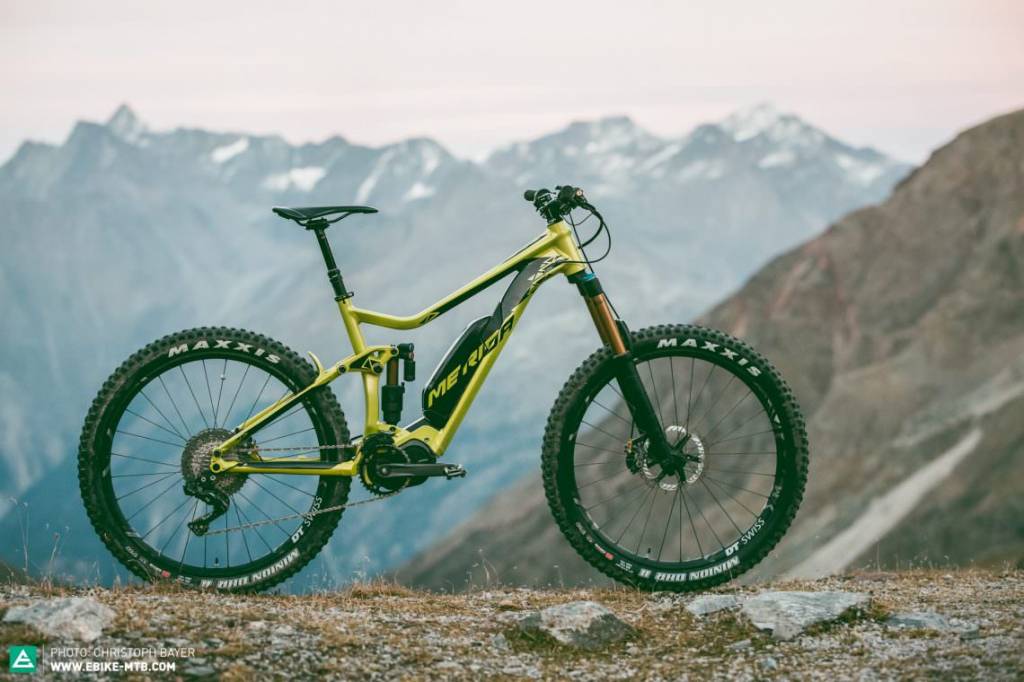 Hi there, we have had a lot of people asking about "power assisted" mountain bikes for Western Australian conditions or E-Mountain Bikes for short. Now we have been in the electric bike industry for the last 8 years and have seen a meteoric rise in the development and quality of the products in that time. So we have put together a first time buyers guide for power assisted mountain bikes and tried to direct it to our specific conditions here in sunny Western Australia.
As the market for E-Mountain Bikes grows faster and faster, the variety of products on offer is also increasing. Almost every reputable manufacturer now has mountain bikes with e-support in the program. However, as a customer, this huge market often creates confusion and uncertainty. In this buyers guide we will explain what you need to consider when purchasing a new E-Bike, and pass on some useful tips to ensure you find the best E-Mountain Bike for your needs and the terrain you want to use it in.
In the first part of our buying guide, we deal with fundamental themes around the topic of E-Mountain Bikes. Then we will go onto which type of E-Mountain Bike is best for your application, and last but not least we give you some final tips on buying before you make your purchase.
It doesn't matter if you are heading uphill or down, electric bikes are great fun either way, before you hated climbing that switchback, now it can become a new favourite trail!
Section 1.
So what is an E-Mountain Bike?
An E-Mountain Bike is an electrically assisted Mountain Bike. An electric auxiliary motor can be switched on, which assists the cyclist when they pedal and the level of assistance is selectable. With most models, when the motor is assisting at full power, the bike supports the rider with up to a 3-fold power increase over their own performance.
What types of E-Mountain Bikes are there?
We are just talking about motor size and legality here, E-Bikes can operate in two ways in Australia. One using a throttle, with assistance limited to 200 watts, and two with pedal-assist, where the motor (limited to 250 watts of assistance), operates when you're pedalling, and cuts out when you're not.
Most E-Bikes sold in Australia from mainstream bike companies tend to go for the pedal-assist option because it feels more natural, gives you a workout, and offers more top-end power. You can buy bikes that offer higher assist power and speeds, but they are not street legal, and for good reason. They reach speeds that are unsafe to tackle in a bike helmet and around pedestrians and other cyclists, also they would cause messy insurance and legal problems in the event of an accident.
There are two main E-Bike styles: those with a motor at the rear hub, and those with one mounted to the frame at the bottom bracket. The latter option offers better ride quality, efficiency, and more reliable wiring setups.
Most new E-Bikes sold today come with a motor system (motor, battery, wiring, and controller) from a single supplier such as Shimano, Bosch, or Yamaha. The system specs (motor power and torque, battery size, and assist modes) are tuned for the bike's intended use.
For an E-Mountain Bike with a support up to maximum 25km/h with a 250 watt motor, you are completely legal as a push bike. Anything over this is illegal and don't forget a lot of the trails in Perth are still on or cross public roads and to be honest a larger capacity motor it just going to drain your current battery down too fast or you will be adding more weight with an extra battery pack.
How much does a good E-Mountain Bike cost?
The entry into the E-Mountain Bike segment is a hardtail bike. These are bikes have suspension only on the front. A good E-Hardtail usually costs at least $2500.00 Aud (Apollo Eon) For a full-suspension E-Mountain Bike, prices start at around $5,000.00 Aud (Giant Dirt-E) The complex motor and the high demands on safety-relevant components such as suspension and brakes make E-Mountain Bikes generally more expensive than bikes without a motor.
How far can a E-Mountain Bike go?
The range of E-Mountain Bikes depends on the battery capacity, which is measured in watt-hours (Wh), but is then also heavily influenced by various factors such as weight, route profile, outside temperature and the level of support. For this reason we have broken it down into a riding time (This is fairly conservative and most people will expect more then this in actual riding conditions). Based on 250W motor and 400Wh battery). With non-stop maximum power you can easily expect over 1.5 hours of riding, with moderate assistance 2.5 to 3.5 hours is easily expectable, and on an 'eco' mode most riders would get 4+ hours of riding on one charge.
How do I charge my E-Mountain Bike battery
The batteries of E-Bikes are classically plugged into a mains socket. Sometimes the batteries must be removed from the bike. It is very easy and can be done in seconds. The charging time depends on the model and is between 2-6 hours. In case you were wondering if the battery is easily stolen, it is held in place by a lock on the frame making it quick to undo to charge, but very secure while locked.
Section 2.
Whats the right E-Bike for you?
The e-bike market is about to undergo massive growth. Nearly every big manufacturer offers mountain bikes with electronic assistance in its range. However when making choices it is hard not to feel under pressure when confronted with the many choices. In our E-Mountain Bike buyers guide we will show you all you need to know when buying an E-Bike.
We delivered you some basic information about E-Bikes in our first part. It is now time to introduce you to some helpful tips on how to find the right E-Bike, that perfectly fits all your needs. The third part will focus on good advice when buying your bike in the shop.
Hardtail or full suspension bike?
E-Mountain Bikes can be divided into two groups, hardtails and full suspended models.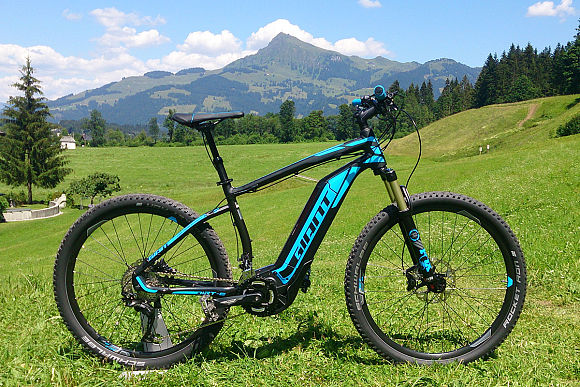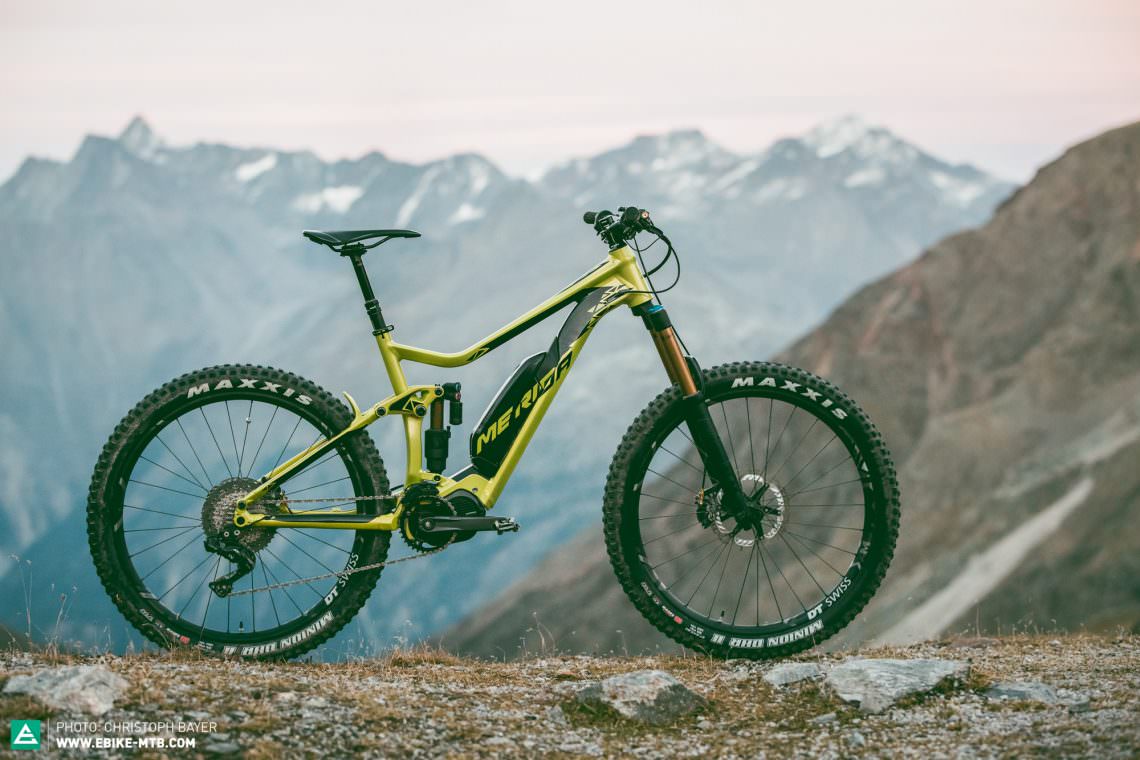 Hardtail
The Hardtail is especially popular in the endurance sector of non electronic bikes and comes at relatively low cost. The sturdy frame guarantees maximum transfer of power, without weighing too much and needs less maintenance. This makes hardtails cheaper.
The lack of suspension at the rear end makes it easier to manufacture the bike. This starts with the construction of the frame and ends with the production and assembly.
Hardtails are about $2000.00 AUD; cheaper than fully suspended models but are really for the person that is looking to ride very basic off road conditions or very smooth trails as having no rear suspension is very hard on your body when you are riding anything up from green (beginner) trails. You might not think it but Perth trails are very rocky which is the worst enemy of a hardtail so unless you are thinking of using your E-Mountain Bike for light trail work or touring I would consider a dual (full) suspension. 
Full suspension bikes
If one ignores the higher price and the higher weight, one starts to see advantages with fully suspended E-Bikes. These include:
Increased comfort.
More traction.
More riding safety.
More fun!
The full-suspension E-Bike is especially good off-road. The additional performance works in harmony with the electronic motor to offer more traction at the rear wheel. The rear suspension smooths bumps and enables more contact to the ground.
The full suspension bike ensures more safety and makes higher speeds possible. All this results in more fun.
How much suspension travel is necessary?
First: The efficiency of the chassis only plays a secondary role in the E-Bike segment, unlike with normal mountain bikes.
The reason for this is easily explained: The powerful motor offers ample performance, so a little more weight on the bike is less important. A highly efficient seating position and special chassis are not a priority.
Fun is clearly the main factor when it comes to E-Mountain Bikes.
We recommend bikes with 120mm to 170mm of travel at the front and rear. These bikes are very stable on the trail, because of the motors low centre of gravity point. Additional travel increases fun when going downhill, without reducing uphill performance.
Due to the minimal cost difference between shorter and longer travel E-Mountain Bikes and the fact that you don't particularly need the most efficient ridding style because it is power assisted I would look at a longer travel bike to what you would normally ride non assisted. If you look at most of the designated trails around Western Australia they are built for what we call the "trail" or "Enduro" mountain bikes which are 140mm of travel front and rear to 170mm front and rear. This amount of travel is fine for most trails around the world and will offer the most fun for your dollar. The bikes in this class are designed around overall control and stability as priority.
Which drive concept is best?
Central motors are well established among fully feathered E-Bikes. The central weight balance ensure good riding characteristics on uneven terrain. Only a few hardtails are left with rear motors.
Rear motor:
Rear motors are a thing of the past and only used with city bikes and a few hardtails. The heavy weight (at least 4kg) at the rear end doesn't make these bikes ready for off-road terrain. The uneven weight balance creates a lot of disturbance when it comes to riding performance.
The unbalanced rear wheel is the largest problem. The unsprung weight and poor build quality don't help either. Due to its out of date design it is relegated to the low budget aftermarket kits found online.
Central motor:
The market has several central motors on offer. The most popular motor so far is the BOSCH, Shimano and Yamaha Performance systems. All systems come with the advantage that they are attached below the pedals. This is the perfect gravity point and it makes it easy to use normal drive trains. Every motor comes with its own advantages as well as disadvantages.
The motors often only differ in little details and not as much in performance. The main thing with buying these brands is the level of quality and service you get. These brands world-wide so servicing can be done anywhere. Just drop into a dealer and you will have a fix. And secondly, due to Australia's dusty conditions a lot of these quality electric kits are designed for conditions like ours so there are rarely faults that you will have to deal with.
One thing is clear:
The motor is an important factor when it comes to the bike's driving characteristics. But so long as you purchase a reputable brand it shouldn't be the most important decision when it comes to choosing a bike. Geometry and chassis are much more important and influence the bike's handling and the seating position.
Which E-Mountain Bike suits me?
Hardtail with a centre motor: Remember Hardtails are made for even ground and basic trail riding. The centre motor/battery hardtail is better on off road terrain than a rear mounted battery. In order to be cheaper than an E-Full-Suspension one has to make compromises when it comes to traction and comfort.
Full suspension E-Mountain Bike with 120mm travel: offers good riding characteristics uphill as well as downhill. They are made for long tours and are able to master fairly advanced ground. Although some E-Mountain Bikes are delivered with less travel, it doesn't keep them from achieving good riding capabilities.
Full Suspension E-Mountain Bike with 140mm to 170mm of travel:  These bikes are best for fun. They are able to climb mountains with the help of the electronic motor and offer maximum fun when riding downhill. These bike are amazingly capable and can ride pretty much what ever you can dream up, check out some of our pictures.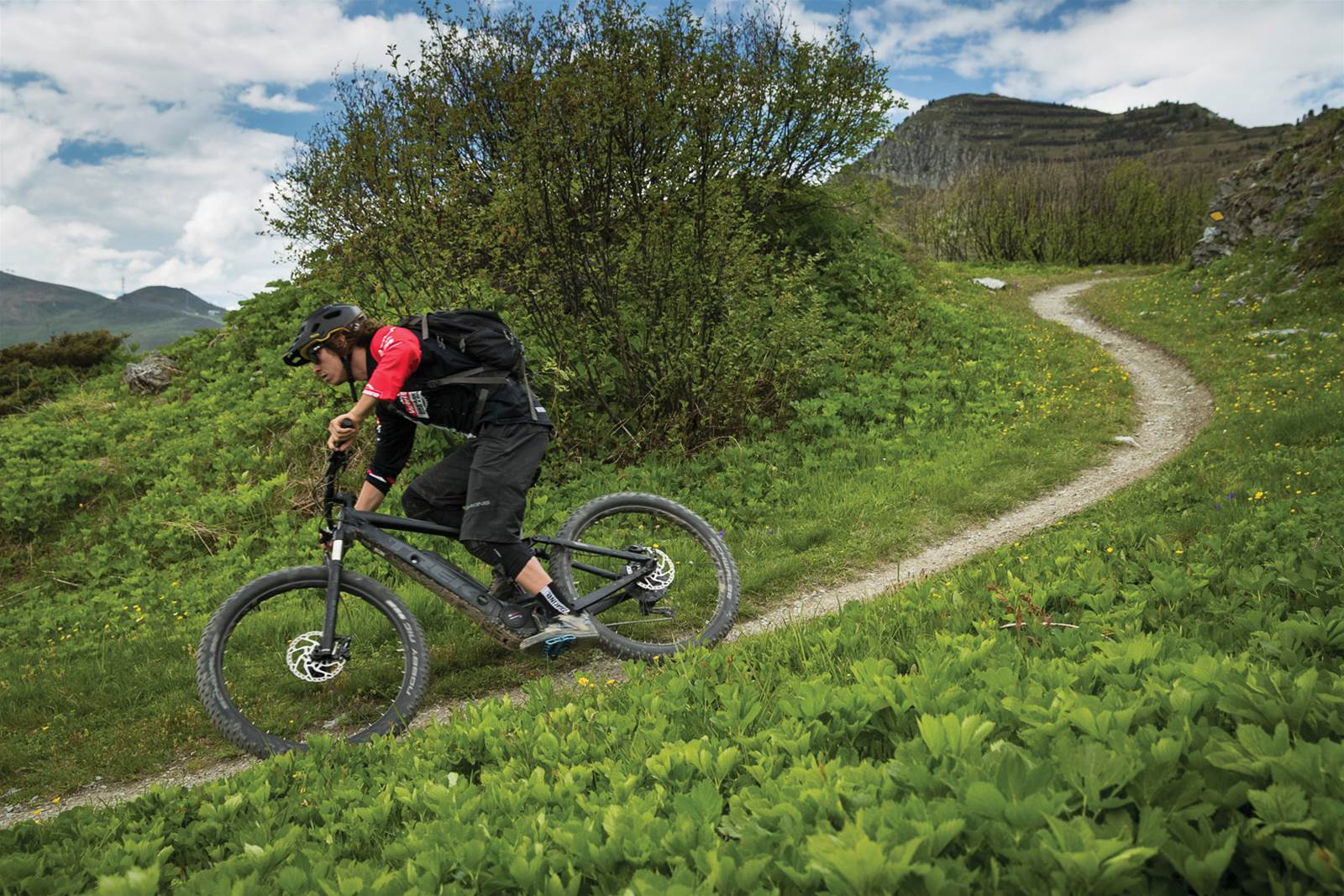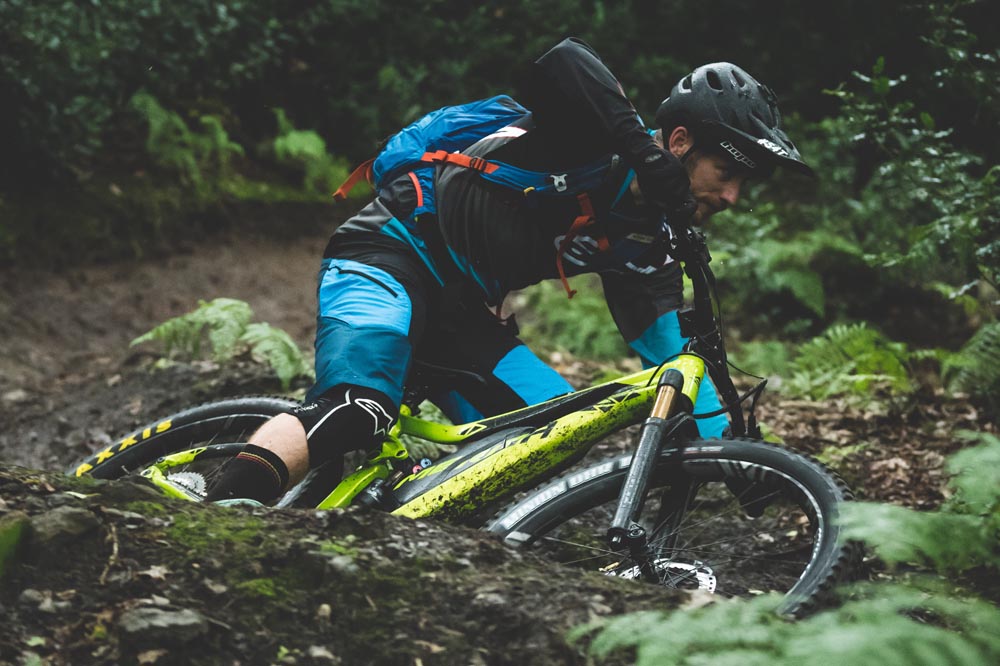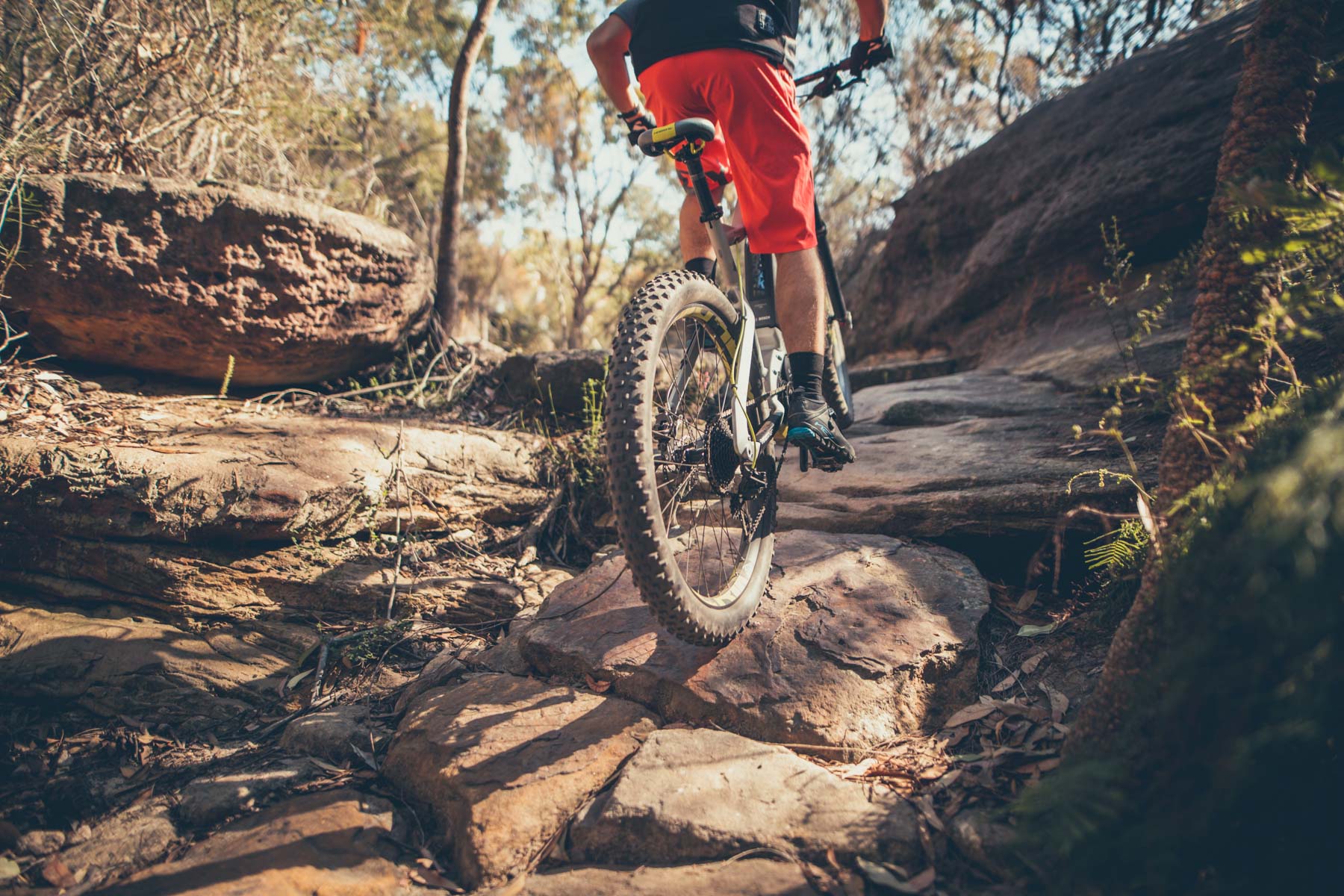 As we have already noticed in the buyer's guide, the motor is not the main factor when choosing an E-Bike. A total harmonised concept and a fitting geometry are just as essential as the frame. Amateur riders can't read these factors on paper and need advice, as well as a test riding possibility.
One should buy from qualified dealerships
E-Mountain Bike are in need of lots of maintenance. With the help of our buyer's guide you can easily choose a bike, that fits to your personal preferences, but you should still consider consulting a specialist dealership.
Good advice, individual adjustments and the possibility of testing the bike – a specialist dealership comes with plenty of advantages.
Advantages of a specialist dealership:
Good advice: It is very helpful to have someone at hand, who can explain all the different and complicated features.
Test ride: Similar to a car, it is essential to test ride your new bike. This is the point where one notices whether the bike fits one's needs or not. The more detailed the test ride, the less likely surprises will occur after purchase.
Individual adjustments are directly possible: Is the stem too long? No problem. The bike can be fitted to your needs immediately.
Chassis adjustment: The E-Bikes chassis is adjustable to the rider's needs.
In need of a service? No problem, all you have to do is contact your dealership to have your bike repaired. Single parts can often be replaced directly, repaired or sent to the service desk. Often one can hire replacement bikes or parts.
Good service is more essential than price dumping, a good store rides what they sell and knows the subtle changes that will bring the best out of the E-Bike you are looking to purchase.
Watch out for low prices that trade a lower level of service. Sometimes dealers reduce prices to bring customers in the door but don't offer the service that is deserved with the bike – quick turn arounds on bike servicing is valuable so you're not stuck without your bike. Bike mechanics are trained to work with the highest attention to detail and will maintain your bike properly, especially with E-Bikes, they will sometimes use quite expensive software to keep you bike up to date and running smoothly. Most new E-Bikes will come with an included service schedule as well.
As mentioned before, the possibility to adjust the bike directly at the store is a great advantage of dealerships.
This is what you should look out for when buying a bike
Choosing components:
Tyres:
They are in charge of grip when going downhill as well as offering enough traction uphill. Because E-Bikes come with more performance and weight, it is necessary to fix stable and profiled tyres. Our recommendation for Western Australian conditions:
From the Maxxis Range: Maxxis High Roller II TR EXO (Tubeless ready with EXO Protection), Maxxis Ardent TR EXO, Maxxis Minion TR DD (DD - Double thickness protection for 140mm and longer travel applications).
From the Schwalbe Range: Schwalbe Hans Dampf Snake Skin 2.35 is a fantastic rear tyre for lots of grip. The Schwalbe Nobby Nic Snake Skin 2.25 is a slightly faster but less grippy option for front or rear. The overall width will depend on your wheel set but as a rule of thumb be looking at sizes from 2.10 to 2.35 for light trail work to 2.50 to 2.80 for more aggressive, harder trails.
Cockpit:
The handlebar is a direct contact point between the rider and the bike and is therefore important for the bike's handling. We recommend a handlebar with at least 720mm width to ensure enough control. Preferably 780mm on larger travel bikes. The stem should be a maximum of 80mm for more endurance type riding and around 50 to 60mm for more a more aggressive position or better control.
This is how it works: The shorter the stem (70 to 50mm) and wider the handlebar (750 to 800mm) will guarantee more security in every riding situation.
Fork:
E-Mountain Bike is confronted with high impact because of their high weight. Therefore, a high performance fork with a thru-axle is a must have. A lock-out lever on the handle bar is not needed. This would only make it difficult to use the levers and buttons in an intuitive way.
Look for specific E-Bike tuned suspension as then you know the suspension is perfect for the application.
A "thru axle" for the front wheel significantly improves the fork strength and stiffness - definitely key for E-Mountain Bike.
Brakes:
The higher weight of the E-Mountain Bikes compared to a normal bike means that the brakes are subject to much higher energies. We recommend a brake disc size of at least 180mm (front and rear) to dissipate the heat caused by heavy braking. Brake discs with at least 180mm guarantee short braking tracks even on longer downhills
Telescopic seat post:
They are the biggest evolution since the invention of the fork and disc brakes. A telescopic seat lowers the seat in matter of seconds, allowing the rider to shift their weight and gain more control – particularly on steep trails. They ensure fun and safety. A remote handlebar leaver is a must have for maximum comfort.
Drive train (gears):
With the evolution of E-Mountain Bike gearing, companies are starting to bring in E-Bike specific components. When you are looking for your E-Bike make sure that the Chain and Cassette are E-Bike specific as they are under a lot of load from the added power. Don't get caught out think the more gears the better! A lower amount of gears on the rear cassette will improve the life of the gearing as the chain is wider and the teeth on the rear cassette has more material to prolong its working life.
Hopefully this buyers guide gives you some help in purchasing your new electric bike. What we have written in this guide is from our experiences with electric bikes and a lot of feed back we have received from our customers. We have tried to be as non-biased as possible and just give you the ins and outs of a pretty complex market right now. My advice is to read through this guide then decide the right E-Bike for your application, and the fun bit, go test ride them! Whether you are experienced or not, your body will tell you which bike fits and rides best for what you want to do with it.
And please don't rely on the internet too much as it will just confuse you...
See you on the trails
from the team at Buy Cycles Australia